Welcome to Billet and Acrylic !
.... Almost like having a friend with a machine shop!

We specialize in billet Aluminum parts for all vehicles. We have been making custom billet accessories parts since 1992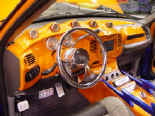 All of our parts are made from Aerospace quality 6061 T6 aluminum, and come fully polished at no extra charge.
We take the time to do it right!
Check us out frequently as we're constantly coming out with new stuff.
---
We accept payments through PayPal.
---
.... check out our NEW Smart billet accessories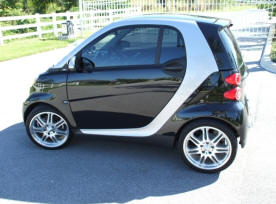 ---
Can't find something for your vehicle?? Then click on 1-off parts,
and lets get some custom billet parts from our machines to your vehicle.
( Photos below courtesy of James Scott at Crescent Vans)

( Photos below courtesy of: Mike Matamoros)

( Photos below courtesy of: David Brent Marks)
---

Gotta Great Ride !!???.......

We will be adding a new section to our website, Customers' Rides.

If you'd like to have your car or truck featured here, please E-mail pictures to
.
---
Why shouldn't the bottom of your hood look as nice as your engine?
Tired of the hole in you step bumper?
Here's the easy way to cover it up!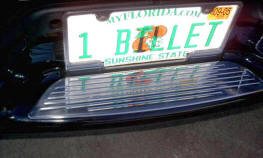 NEW: F150 Master cylinder tank cover and Lightning/Harley ventilated relay cover.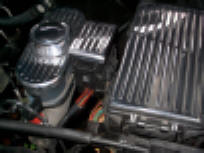 ---
Many NEW products listed below.
Chevy fullsize engine dress up kit contains:

Oil cap cover
Power steering cap cover
Brake fluid cap cover
Coolant cap cover
AC port covers (2)
Dipstick handle
Fuse box cover, ball mill or flamed

Order today - 772-567-7645
Email: billet@billetandacrylic.com